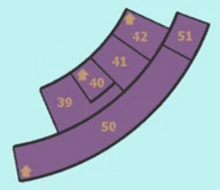 The Stays is an island making up part of Capital, governed by the Assayer's Guild and containing many buildings relating to trade and commerce. It is about 21 miles along and 3 miles wide.[1]
The Chain of Acheron are currently making this region their base of operations while waiting to be granted knighthoods.
Districts
[
]
39 - The Dog-leg: Poor residential district containing the Prince's Shadow tavern.
40 - The Shavings: A commercial district containing the Imperial Bank and the tailor Augustino, Bonito, and Campegno.
41 - Foxes: A wealthy residential district.
42 - The Roses: A commercial district containing the Tanneries. Smells awful.
50 - The Piazza: Also called the Promenade, a commercial district containing the Exchange and a separate section for immigration and customs.
51 - The Scales: A commercial sector dominated by the fishing industry.
References
[
]