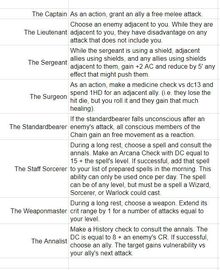 Each senior officer and many of the junior officers of the Chain have particular positions that they fulfill for the company. Role cards represent the mechanical benefits of those positions and are given to each player to represent the role currently held by their character.
When a member of the Chain dies, the role card is passed on to the next appropriate person to fulfill that role.
Behind the Scenes
[
]
Matt posted an early draft of the roles and their benefits on Twitter (see right).[1]
References
[
]
Trending pages
All items (9)